A little information about us...

We have owned, and raised Bullmastiff's since 1990, and wouldn't trade the love, or the loyalty displayed by this breed, for all the tea in China! They are large, lovable, majestic teddy bears by nature, and great family pets. We, have found the Bullmastiff breed to be very intelligent, loyal, and easily trained. They are naturally protective of all family members, and the ground they call home.
We are located approximately 45 minutes south of Nashville, Tennessee in the town of Rockvale. We spend a lot of time with our pups from the moment that they arrive into our home. Assuring you, that the pup you receive from us is well socialized, and will make the adjustment to it's new home with little difficulty. Our pups, are all AKC registered. Wormed on a regular strict schedule, and vaccinated to date at all times. We offer pups with a full AKC registration to the public when pups are available.
Please contact us for availability, and price. If you would like to have your name on a waiting list. We will be glad to reserve a puppy for you. If you have any questions....

Our e-mail address is located on the (Contact) page.
Thank you! For visiting us, and we hope that you have a great day!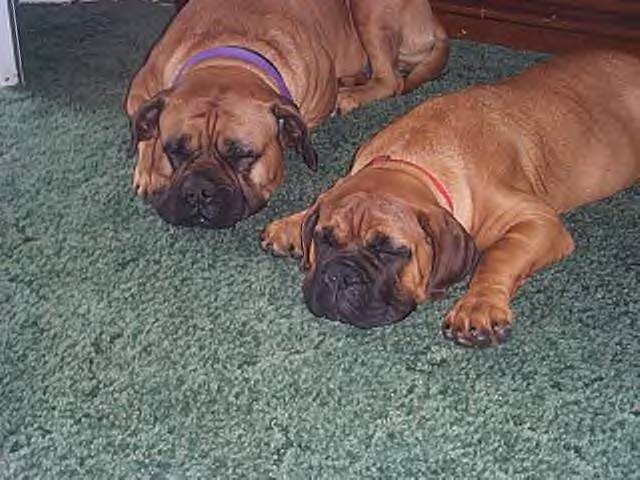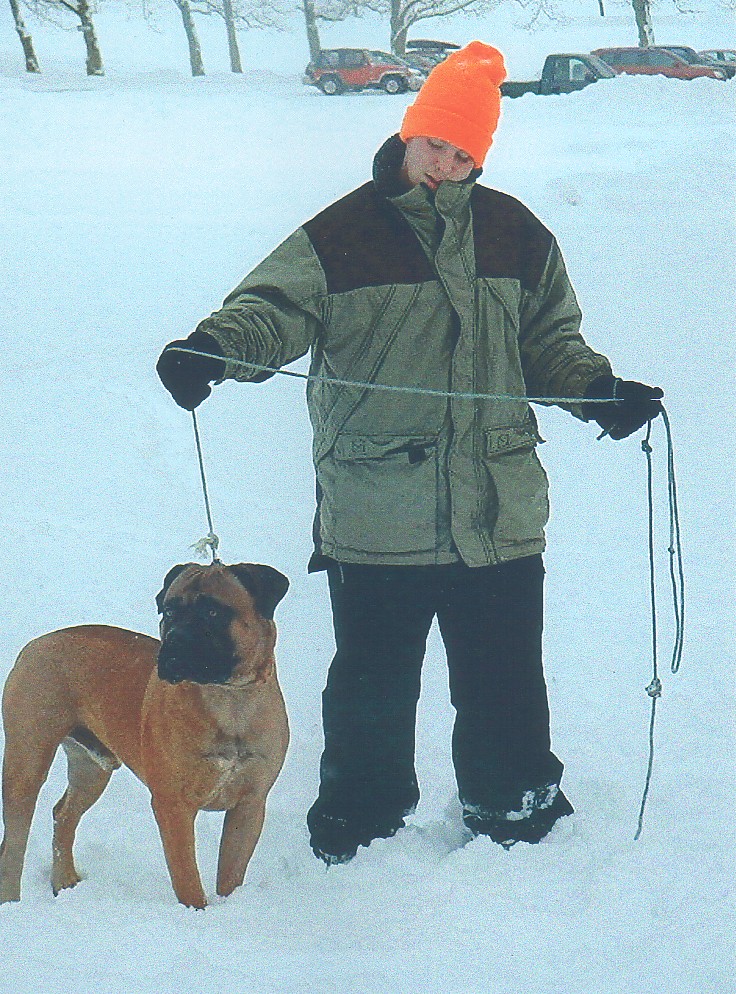 (Above)
Our first Bullmastiff, "Maggie" on the left, with 4 mos. old pup "Billy girl" on the right.
Maggie, is the reason we fell in love with the Bullmastiff breed. When she had her last litter of pup's, we kept a female, and named her "Myrah Merrylegg's."
We think that Myrah, and Sye together will produce some beautiful offspring, and we're getting excited!
Maggie passed away late in 2009. We miss her still!
She left us Myrah, and we're glad for it...
Thanks, Poopsie! We miss you, so much!

(Below) Myrah, was such a sweetheart!
She didn't seem to mind that our Schnauzer, used her as a large heating pad, and a pillow on a cold day.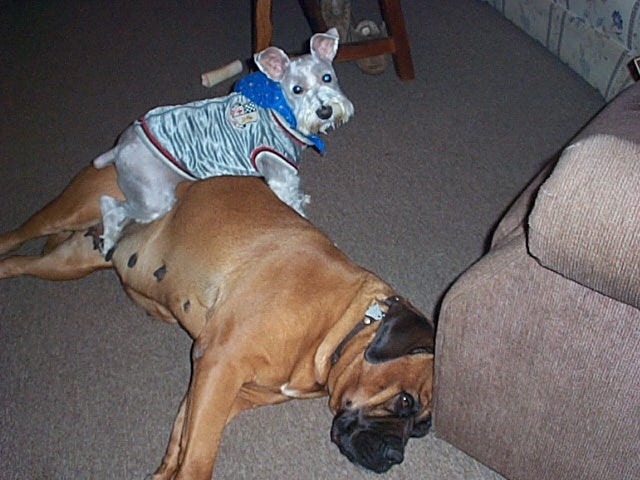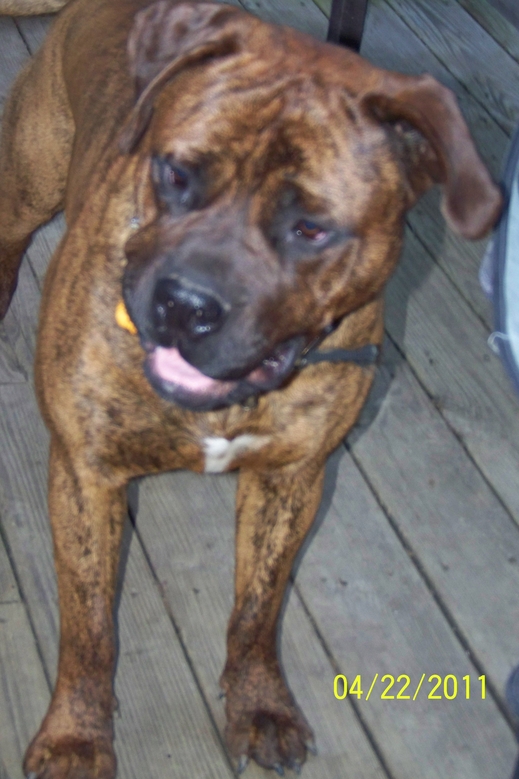 (Above) This is one of our males... "Bluestar's Big Sye of Relief." He's a youngster in this pic, and has some growing to do still...


(Below) This is "The Duke of Farnsworth" with his best friend Mike. They live in upstate New York. Duke is a son of Maggie's, from her first litter of pups.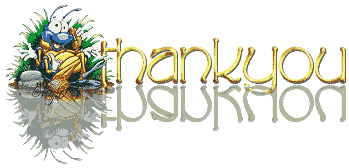 For visiting us @
jacksonridgebullmastiffs.com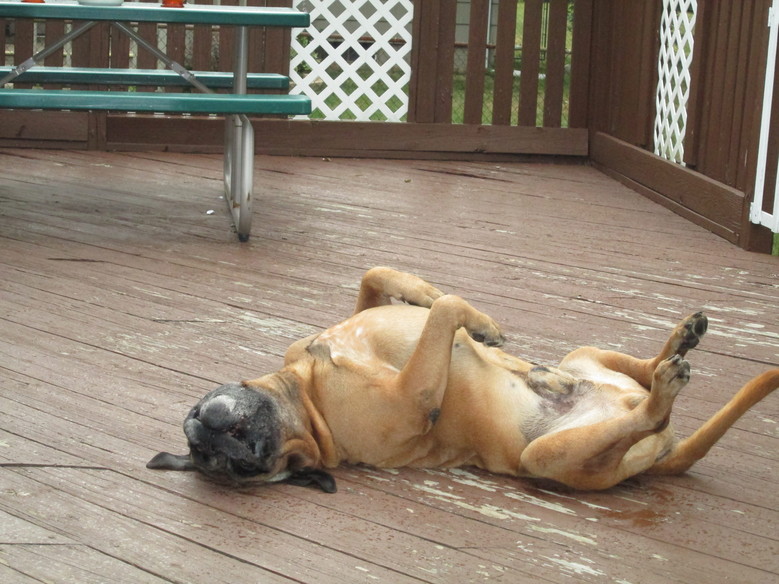 Duke, @ age eleven

We got to see Duke, early in the summer of 2012. He's was very playful, even at age eleven!




(September 22, 2012)
Always a good girl, a great friend, and a good mother to her pups.
"Myrah," had a heart of gold!
Her stomach had twisted around her intestines, and our Vet. couldn't save her...We miss her dearly!
We're great full for the six beautiful pups that she left behind...
Myrah, will live on through her pups, and always in our hearts!
God Bless you, "Big Girl"
Always in our hearts, and in our thoughts. You'll never be too far away!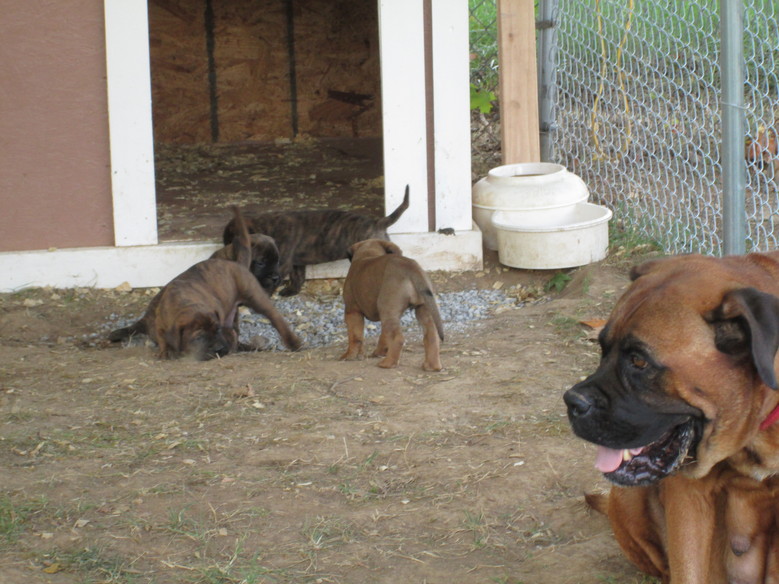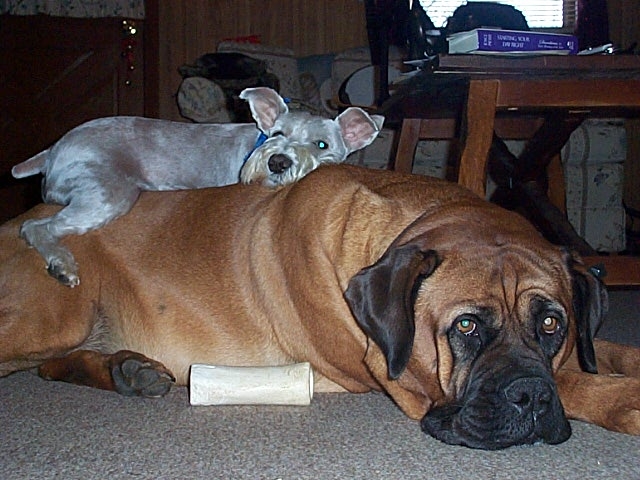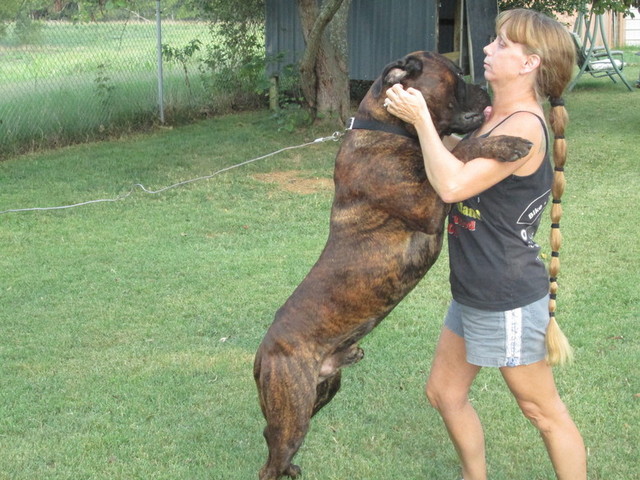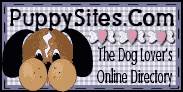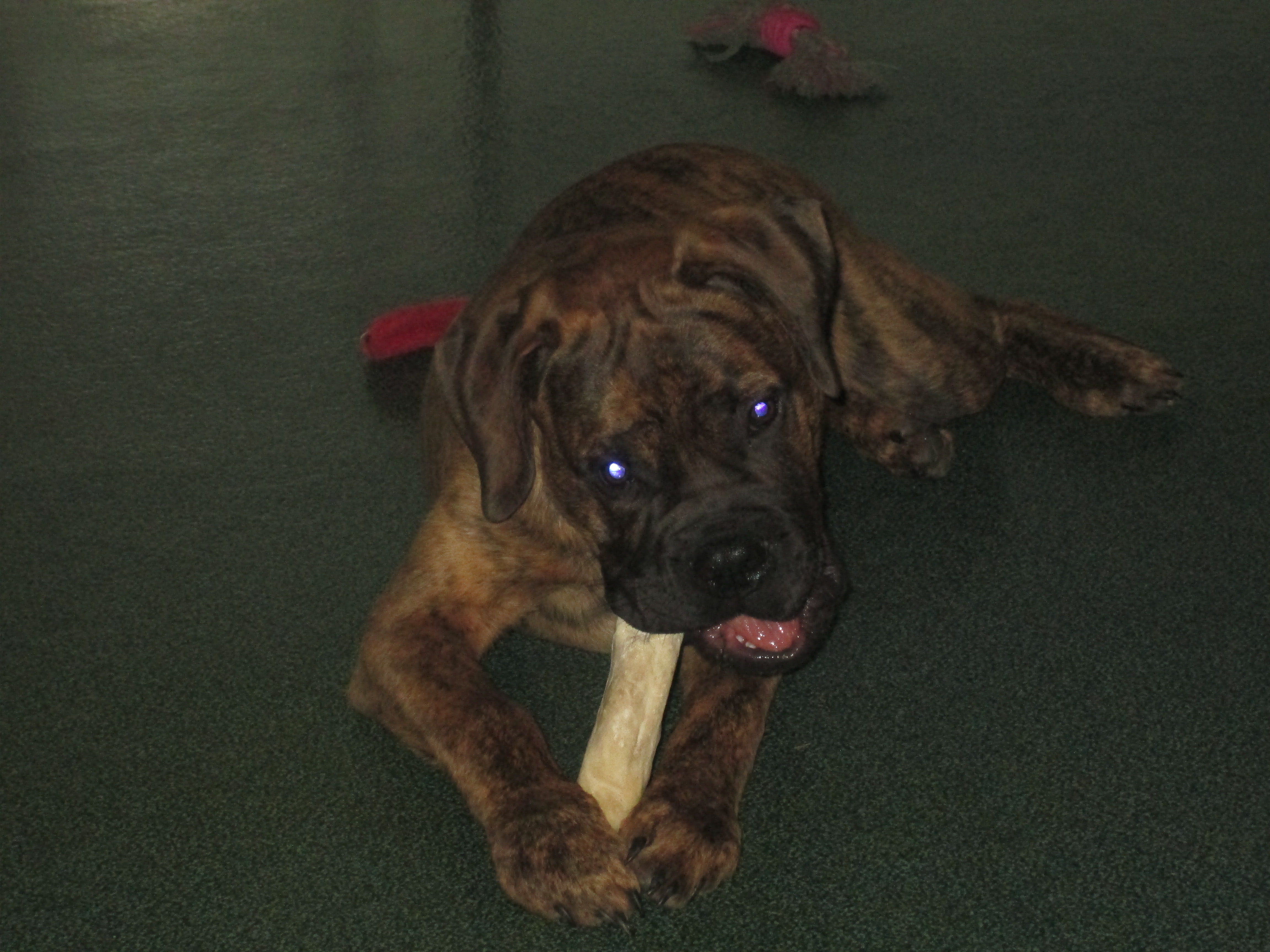 Bluestars "Miss Calico Kitty"
@ five months of age. Fall of 2014

New additions to our crew, here at Jackson Ridge Bullmastiffs
We 've added two new females to our friends list...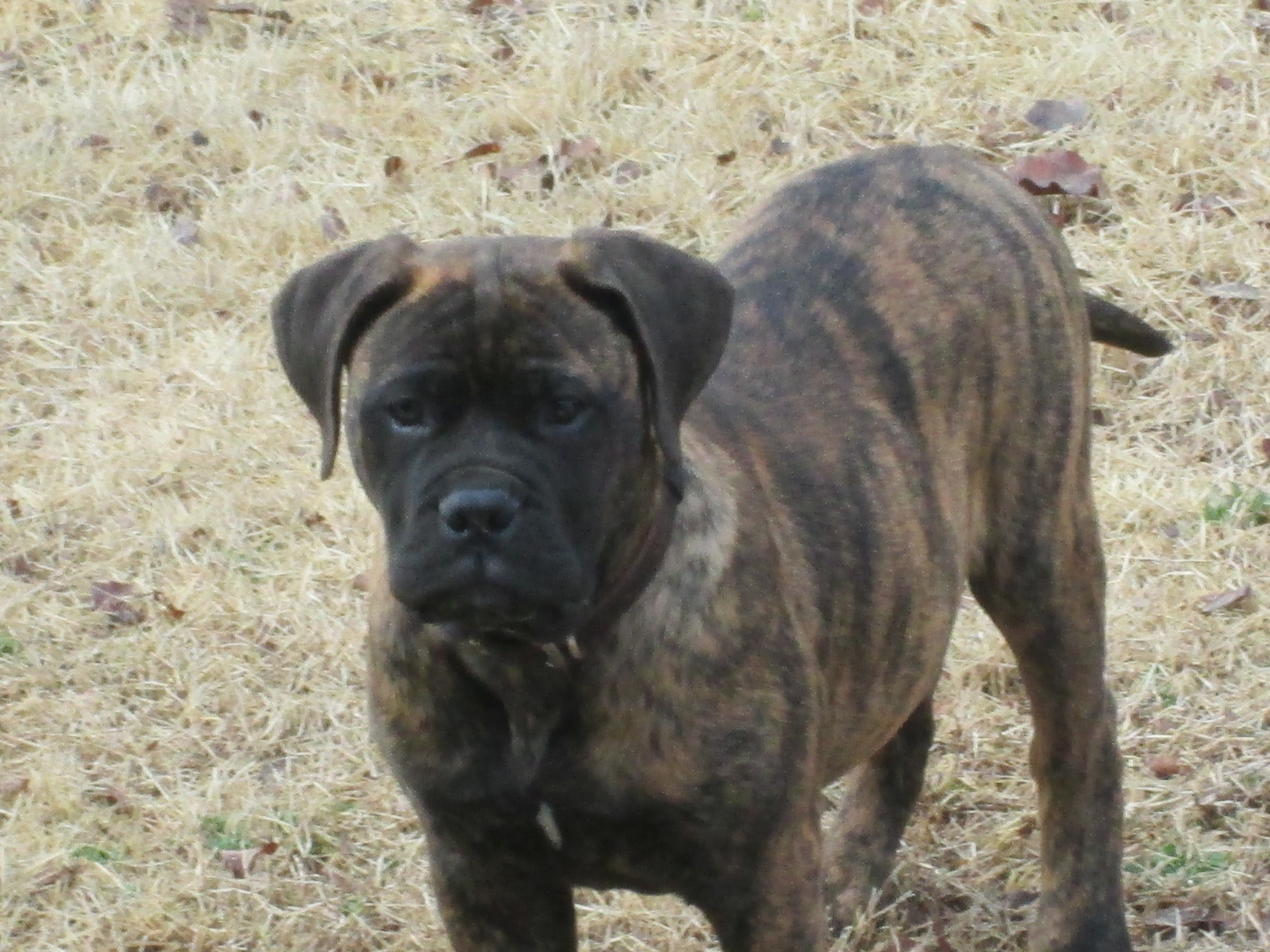 Bluestar's "Little Red Ginger Snap"
​@ six months of age. Spring of 2015